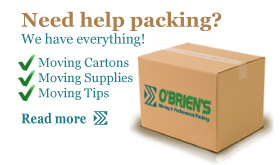 With over 20 years in the moving industry, O'Brien's Moving & Professional Packing has helped move families from coast to coast with great care and expertise.

Throughout this time frame, O'Brien's has developed reliable, professional moving services while utilizing the latest technologies the industry offers. This allows our team to relocate your personal possessions smoothly, whether we are providing our full-service or simply assisting your move.

Our dedication to providing professional packing has O'Brien's exercising the best judgment and care when handling fragile and/or valuable items. It is of utmost importance that all items packed and transported by the O'Brien's team arrive safely at their destination.

We invite you to contact one of our O'Brien's representatives to learn more about who we are and what services we can offer you. Let us give you our best quote.